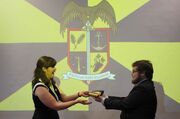 Occurring on the third Friday of May each year, Victory Day is a public holiday in the Republic of Oceana to celebrate the return to democracy and civil freedoms, and remember the individuals who gave their all to ensure the people of Oceana can now live in a free and fair society, a society where the people are in charge of their own prosperity.
Inauguration
Edit
The President-elect of the Republic of Oceana shall take office on Victory Day. Similarly, the Treasury Chairman-elect, Media Secretary-elect and Speaker of Parliament-elect also take office.
Traditions
Edit
The outgoing President, in addressing the nation, commemorates the sacrifices and victories of the people of Oceana.
The National Flag of Oceana shall be flown on all government buildings between the hours of 7am and 10pm and all citizens are encouraged to hoist the National Flag to full mast between the hours of 7am and 10pm.
Upcoming Dates
Edit
Victory Day will be celebrated on the following days:
| Year | Date |
| --- | --- |
| 2012 | Friday 18 May |
| 2013 | Friday 17 May |
| 2014 | Friday 16 May |
| 2015 | Friday 15 May |
| 2016 | Friday 20 May |
| 2017 | Friday 19 May |
| 2018 | Friday 18 May |
| 2019 | Friday 17 May |
| 2020 | Friday 15 May |